Ohio State fans are sorry, they are sorry about their play, they are sorry about their coach, and they are sorry for embarrassing the Big Ten. They are not, however, sorry about James Laurinaitis stealing the Butkus from Dan Conner; besides being totally dominated statistically all year, he also kind of sucks.

So who were we suppose to root for, anyway? I think conference loyalty is a joke, so do many others. Despite my better judgement, I was in fact rooting for An* Ohio State University last night, and like waking up next to the ugliest girl at the bar, I feel dirty.

Jamarkus Russle was wearing a cosby sweater, I cosby sweater. And did Troy Smith actually get shorter? I guess the Ravens will do that to you.




The SEC has turned An Ohio State University into the Buffalo Bills of college football. aOSU was actually the faster team, but they were totally dominated up front. They were also outcoached. They were just plain bad...and why was the French Army playing the Ohio State fight song all night?

So the offseason begins, and we have a new 41-14, his name is 38-24. Yes, things could be worse, but please don't pull the Moral Victory card, now is not the time: two blowouts in two years is not good. Have fun with that USC game in eight short months.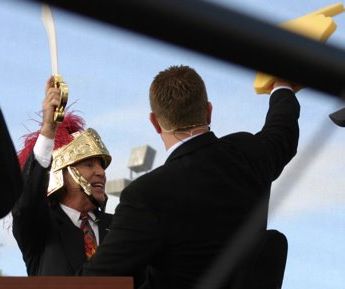 *Look in comments, tOSU heron refereed to as 'aOSU'.