The Detroit Free Press has attempted an objective look at the four remaining finalists for the Pryor sweepstakes. Interesting considering Michigan probably is not really in the running anymore, but whatever.

Regarding Penn State, the Pros:

• Penn State seems to be Pryor's father Craig's top choice.

• Penn State is the closest school to Jeannette, Pa. If Pryor became a Nittany Lion, many of his family, friends and coaches could watch him play.

• Pryor and his advisors seem very impressed with Joe Paterno. The legendary coach personally visited Pryor at school when other schools were oftentimes sending assistants to talk to the five-star recruit.

• With Anthony Morelli graduating, the Nittany Lions have a Michigan-like gap in their depth chart, opening the door for a recruit like Pryor to get an immediate starting job.
Well, I wont totally hate because you nailed the obvious ones like "it is close to home" (although not
that
close) and "Joe is a great guy", but the last one shows a total lack of knowing what the hell is going on. The depth chart at QB is actually very strong, with two candidates who could end up being very good at what they do. Both have at least two years of eligibility. Now if Pryor is the real deal, at this point, it's not that far fetched for me to believe that he could start his sophomore season, but this year? Probably not.
Back to the story, the cons:
• Penn State runs a rather traditional offense that may not suit an athlete like Pryor as much as other schools' systems would.

• Penn State's last No. 1 overall recruit to commit, WR Derrick Williams, has essentially been a bust. There's been very little development from when he entered college to where he's at now entering his senior year.

• Pryor has never taken an official visit there, despite living so close to the school.
Spread HD baby! Spread
HD
! This guy obviously doesn't read blogs. Or look at them: (Glorious Photoshop HT to
Nittany Line
)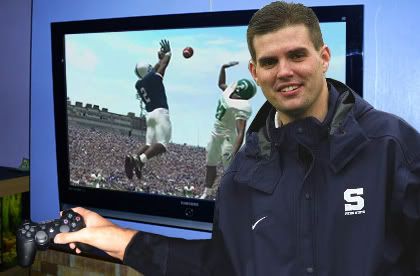 Williams might not have won any Heismans yet, but that doesn't mean he's a total "bust". The guy is a wide receiver, first of all, and played that position during the Morelli era. I also don't see what the development of Williams has to do with the development of a dual threat QB.
Finally, I thought the point of this story was to look at the four schools from Pryor's perspective. How does pointing out his lack of an official visit qualify? If he want to go on another visit (yes, he's been there), he will. He isn't going to cross off Penn State because he didn't take an official, that's backwards logic...
I'm going to once again end a Pryor post with a "what the hell's the point" comment. I guess I just wanted to point out how shitty this story is. The guy did zero research and obviously had a deadline the morning after a long night of drinking. I'm ok with that, of course. I've been there.