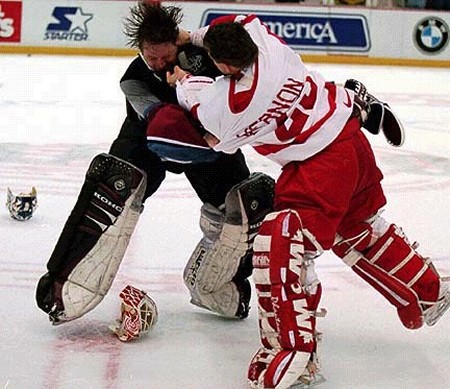 Still Not As Cool As A Goalie Fight



There is a fairly entertaining blog fight between MGoBlog and the ever defiant Bama blogosphere. In the spirit of the off season, I will herein narrate other people's work.

It all started at AOL Fanhouse, the all-star team of once independent blogers. Brian Cook of MGoBlog wrote this little story/rant on the practice of oversigning:

Jesus. That's truly filthy. When this happens a kid who manages to get qualified is shuffled off to a JUCO or prep school because there's not enough room for him. The school who signed him to a letter of intent is screwing him out of a chance to play at an actual D-I school for purely selfish motives.
All programs are allowed to carry 85 scholarships. Some coaches, like Saban, sign
way
more players then they can possibly carry under this rule. So what happens? Well many of them are asked to transfer to JUCO. Some are given medical scholarships. Players that were recruited in previous seasons and not 'contributing' are simply not given a renewed scholarship (scholarships are given year to year, the school is never bound to renew).
Brian makes one very big mistake here: criticizing the Bama program.
Several long and drawn out posts from Bama Nation followed. Choose the response that best fits your taste:
The cage match appears to be winding down, so outside of a couple of rouge vigilantly posters the good stuff may be behind us. It was fun while it lasted. Hooray off-season!