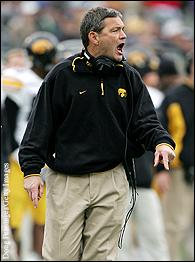 Ok, it's simple really, you see...alright, i don't have an f-ing clue what they are smoking up north. Why Michigan, the team that could land just about any coach in the nation including a guy who is coaching the #1 ranked team in the country in the best conference most talented team in the nation, would want a solid yet very un-sexy, un-inspiring coach who turned a group of three star farm boys into a BCS team that was blown out against USC on the back of a four foot quarterback.

But where are his 'big wins'? Where has he proven that he has the ability take Michigan from a second place team to a winning one. Keep in mind that the main reason Carr was forced out was is impotence against Ohio State the last several years. Ferentz record against OSU? 1-5, including a loss to an OSU team that finished 6-6 in 1999. I don't feel like looking when he was hired as an assistant at Iowa before taking over the head job, but I do know that since 1993 (my guess), Iowa is 1-9 against the Buckeyes.

Don't get it, honestly. Kirk has shown that he can take a star-less team and turn then into something worth bragging about. But now you are looking at a coach who has turned the momentum he gained from two BCS bids in three years into a garbage Big Ten team that lost to Iowa State and, somehow, the Central Michigan Chippewas.

All that being said, I hope and pray that Michigan hires this guy. I hope they hire him and I hope he takes JayPa on board to develop their 8 foot quarterback. I am desperate to beat those mitten loving, car welding, academic snobbing a-holes. So desperate that I actually care who they hire as a coach.

That being said, I would be just as happy with Les, the guy is a moron and would be a great succor to Carr in that he is good at taking an immensely talented team and perpetually underachieving. Hes been doing it for three years now.



UPDATE: So it turns out my mad dash to have an opinion about Ferentz could have waited, he is, according to the what appear to be credible blog sources, actually the front runner. Maybe if Lou gives Ferentz a pep talk he will end up coaching Florida International instead. The curse lives!