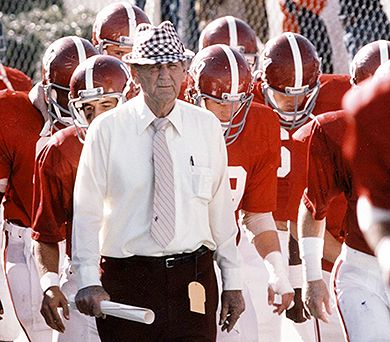 Profiles In Plagiar-Agism is an offseason series being run to examine the history of exit plans. We will be analyzing some of the greatest football coaches of all time and determining any parallels between their final days and those that are facing Joe Paterno. [Title One Part RUTS, One Part MGoBlog, One Part The Office]
Paul William "Bear" Bryant
Coaching Years:
Maryland 1945, Kentucky 1946–1953, Texas A&M 1954–1957, Alabama 1958–1982. Total: 37 Years.
Mythical National Championships:
4?
*
(Note, in two of these four years, the team went on to lose their bowl game. In said years,the MNC was awarded before the bowl game so they were allowed to continue to claim their #1 rankings in those years)
Conference Championships:
15
Backstory:
Bryant grew up in Arkansas and earned his nickname from volunteering to fight a bear when the circus came to town. He later played college football at the University of Alabama where he was part of the (cough-cough)
**
1934 National Championship Team
. He was drafted into the NFL but never played.
Bryant landed several assistant jobs, including one at Alabama, but left to join the Navy at the start of World War II. After an honorable discharge he got back into coaching.
At Kentucky, he led the school to their first ever conference championship and then, after the "
Junction Boys
" summer during his first year at A&M, turned that program around and won the Southwest Conference championship two years later. The following season, however, things began to fall apart when a rumor of Alabama interest surfaced. He did, in fact, leave A&M for Bama and stayed there until this retirement in 1982.
Burn Out or Fade Away?
Faded away on fire? Can I say that? He shared an MNC in '78, won outright in '79 finished 6th in the AP the next two years. He last year was nothing to print plaques about but it's still better than Penn State has finished the last two years.
Current Legacy:
Um, ya, they still like him there. Very much so.
Similar to Paterno's Situation?
Well they are tough to compare. Paterno was at Penn State his whole career. Bryant was HC at four schools. Paterno grew the program as an independent. Bryant played in the SEC. Paterno took a true cow college with no football history and turned into a national power. Bryant sure did turn the program around (the preceding coach had a wining percentage of .163), but from 1924-1946 the school won 81% of their games and had claimed (emphasis this word please) six national championships before he even got there.
So what did we learn?
Well Bryant didn't go out on top, but he came pretty close. Four of his last five seasons were rather impressive. What was his response to life after football? "I'll probably croak in a week." He was wrong, it took four weeks.
Paterno has made similar
jokes about mortality
, but he's also very healthy. But the point is the one thing these guys have in common is their total lack of hobbies. Joe has made it very clear that he doesn't golf or fish or do any of that old people stuff. He coaches football, period.
Joe still thinks he has it, Bryant thought he lost it, and that's why he retired:
After a disappointing '82 season, Paul Bryant announced he was retiring at seasons end. He said the decision had come because he wasn't pleased with himself anymore. "This is my school, my alma mater. I love it and I love my players. But in my opinion they deserved better coaching than they have been getting from me this year."
No one ask the Bear to leave, he felt it was time and packed up his office. If there is one thing we know about Joe it's that he has no such intentions. Bryant thought the program was bigger than him. I don't know if Paterno feels that way.

* Now Bama has a reputation for claiming MNC's they didn't acutally win. If they need this for ego reasons I'm not going to stand in the way. But when I look up the polls in '65 and '78 they finished #4 and #2, respectively. In those two year's they had two losses and one tie. I don't want the wrath of Bama, I've liked every one of their fan's I've ever met in person, but I simply don't get this.

** Ok, this is getting fucking ridiculous. Bama was ranked sixth, SIXTH, that season. Yes, they were undefeated but if you want to bitch about being snubbed by the polls get in the back of this very long line we are standing in.